5 Productive and Fun Things to do During a Pandemic!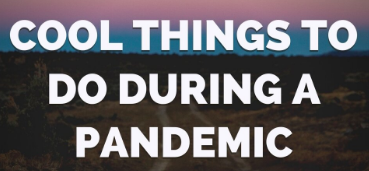 5 Productive (and Fun) Things to do During a Pandemic!
1. Set Fitness Goals! – Now more than ever, it is essential to keep yourself healthy (mentally & physically). If you are unable to leave your home, simple at-home exercises can span from anything like push-ups, meditation, or using the treadmill for 30 minutes a day!
2. Watch A New TV Show! – With the movie theaters closed and dozens of streaming shows available right on your cell phone, now is the perfect time to sit back and watch something new and refreshing! Currently, I'm watching WandaVision on Disney Plus which follows Marvel characters Wanda Maximoff and Vision struggling to deal with past trauma.
3. Learn How to Cook Something New! – Food is awesome! Unfortunately, so many of our favorite restaurants are either closed or open with strict regulations. This essentially leaves us on our own, but don't worry! This is the perfect opportunity for you to learn how to cook new foods like Cloud Bread, Gumbo, Ice Cream Lasagna!
4. Rearrange Your Room! – Have you ever heard of Feng Shui? In essence, it's the ancient Chinese practice of arranging and placing items in a certain way to create harmony. Simple things like moving a mirror, adding a plant, and changing your bed can do a lot! During these chaotic and uncertain times, everyone could benefit from some added harmony and peace in their home.
5. Take a virtual museum tour! – Many of the world's top museums can be visited virtually through Google Arts & Culture, with the added bonus of not having to shuffle through a long line/queue or push with fellow history-lovers to get a good view. Have fun!
Leave a Comment