Abortion on the Ballot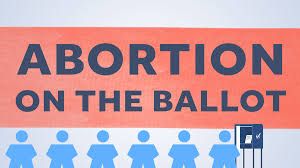 Recently, abortion rights have been challenged by multiple states after the repealing the Roe v. Wade court case by the Supreme Court.  
The United States have been divided on whether women should be able to have an abortion after a certain date or not.  Many states have banned abortion even in cases of rape, incest, or even the mother's life being in danger.
Although the country has been divided, majority of citizens are pro-choice, meaning they believe women should have the right to have abortions whenever they please, for whatever reason they please.
In yesterday's election, the states of Michigan, Vermont, and California voted to protect abortion rights. Kentucky and Montana voted against having stricter laws on abortion.  With this result, all five states that voted on abortion-related ballot initiatives voted in favor of abortion rights.  
Leave a Comment