Lady Raptors Softball Makes An Impression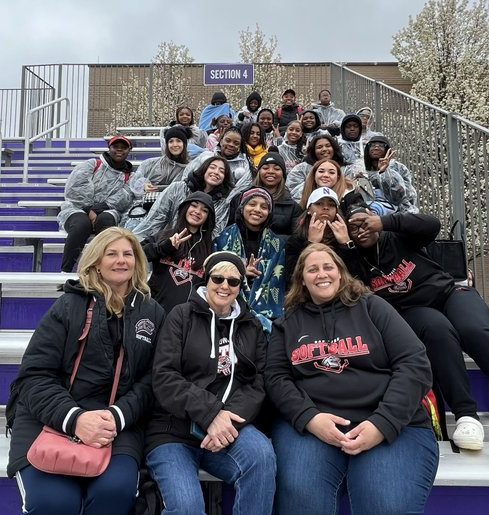 It's no secret that when you focus on working together as a team, everything else will come together. That certainly seems to be the case this year for the Raptors Softball Team.  Right now, the Rich Township Lady Raptor Softball team is closing in on reaching a season record of .500, showing that when you put in hard work on the field good results come your way. 
There has been no lack of Raptor energy and team spirit from these ladies, and it is evident they are not only a team, but a family.  
Coach Data is a big believer in team building, and it has proved successful.  The team headed to Iron Oaks earlier in the season for a few fun activities to help build trust and sportsmanship.  They also took a team trip to Northwestern University to attend a Big 10 Softball game on April 29th.  Sophomore team member, Iyanna Hughes, said, "Attending the game together was a great way to bond, and it was also amazing to see that the energy we brought was felt by every other fan in attendance. Overall it was such a great experience!"
As for the Lady Raptor on field action, each of the Whitaker sisters (Tylar and Kasidy) have crushed balls over the fence.  Maliyah Watson hit a grand slam to seal a big win over Thornridge.  There have many other phenomenal plays   
These Lady Raptors have built a strong team and have made some amazing memories all while putting in the hard work.   Senior Co-Captain Gabby Gines and the rest of the team's seniors will be celebrated Thursday, May 11th during Senior Night.  After which the team will face off against rival Thornwood.  Come out and support the team!
Leave a Comment